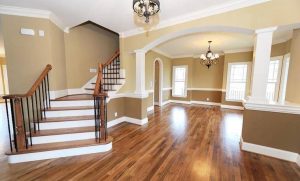 If you find yourself in need of revitalizing your living space with a vibrant touch of color, whether it be to attract potential buyers for a swift resale or to transform and update your personal abode, look no further than Gray Mountain. As the premier choice for residential interior painting, Gray Mountain is the perfect solution for homeowners located within a 50-mile radius of the picturesque town of Post Falls, Idaho.
With an unwavering commitment to excellence and a passion for transforming houses into homes, Gray Mountain possesses all the necessary expertise and skills to bring your vision to life. Whether you seek a subtle and sophisticated ambiance or a bold and vibrant statement, our team of highly trained professionals will guide you through the entire process, ensuring every brushstroke reflects your unique taste and style.
Beyond our exceptional craftsmanship, Gray Mountain prides itself on using only the finest quality materials and paints, guaranteeing a flawless finish that withstands the test of time. Our commitment to eco-friendly practices means you can enhance your living space with peace of mind, knowing that we prioritize the health of both your home and the environment.
In addition to our superior workmanship and eco-conscious approach, Gray Mountain understands the importance of punctuality and efficiency. We recognize that your time is valuable, which is why we strive to complete each project within the agreed-upon timeframe, minimizing any disruption to your daily routine.
When you choose Gray Mountain for your residential interior painting needs, you can expect not only exceptional results but also an unparalleled level of professionalism and customer service. Our friendly and knowledgeable team is always available to address any questions or concerns you may have, ensuring a seamless and enjoyable experience from start to finish.
So if you're ready to elevate your home's aesthetic appeal and create an inviting atmosphere that leaves a lasting impression, trust Gray Mountain to deliver the transformative power of paint. Contact us today to schedule a consultation and let us bring your vision to life, making your house the envy of the neighborhood.
REQUIRED PREP WORK
We take pride in providing comprehensive service to ensure a smooth and efficient painting process. Before we commence painting, we meticulously handle the majority of the preparatory work. However, we kindly request your cooperation in removing certain items to facilitate our work and safeguard your belongings.
To guarantee the utmost care and precision, we kindly ask you to remove all knick-knacks, valuables, pictures, and artwork from the walls. This precaution will ensure that nothing is inadvertently damaged during the painting process. Additionally, clearing any clutter, such as children's toys or miscellaneous items, from the area will create a safer and more organized environment for our team.
For the comfort and well-being of your beloved pets, we strongly recommend securing them in a remote location or another room while our team is at work. This precaution ensures their safety and minimizes any potential disruptions or stress they may experience during the painting process.
Rest assured, when it comes to moving large objects and furniture, our experienced professionals will take care of everything. You can rely on our team to handle these tasks efficiently and with great care, ensuring that your belongings are protected throughout the process.
By adhering to these guidelines, you can help us maintain a smooth and hassle-free painting experience. Should you have any concerns or questions regarding the preparation process, please do not hesitate to reach out to our friendly staff, who will be more than happy to assist you.
SERVICE AREA
Again, our residential interior painting services are available within 50 miles of Post Falls, ID so if you are located in or near any of the following areas, please contact us.
Coeur' d Alene, Hayden, Rathdrum, Post Falls, Spokane, Spokane Valley, Liberty Lake, Dalton Gardens…
SERVICE HOURS
Hours of Operation depends on each project. We can work around your schedule but we do recommend you plan ahead to secure a date on our schedule.
SERVICE LIMITS
Gray Mountain, the unparalleled painting experts, are here to cater to all your interior residential painting needs without any limits. With our exceptional services, we ensure that every inch of your home, from the cozy attic to the sprawling basement, is flawlessly transformed into a work of art.
Our skilled team of professionals possesses a wealth of experience and expertise, allowing us to undertake any painting project you desire. Whether it's reviving a tired bedroom, rejuvenating a lackluster living room, or refreshing a forgotten basement, we have the knowledge and skills to excel in every corner of your home.
No matter the size or complexity of your interior painting project, we approach each task with unwavering dedication and meticulous attention to detail. Our commitment to delivering unparalleled craftsmanship means that every brushstroke is executed with precision, resulting in a finished product that surpasses your expectations.
When you choose Gray Mountain, you can rest assured that we not only provide top-notch painting services but also prioritize your satisfaction and convenience. We understand that your home is a sanctuary, and we treat it with the utmost respect, taking necessary precautions to protect your furniture, floors, and belongings during the painting process.
Moreover, our comprehensive range of services extends beyond simply applying paint to walls. We offer expert advice on color selection, texture options, and innovative painting techniques to help you achieve the perfect ambiance and aesthetic for your living space. Our team is always ready to collaborate with you, ensuring that your vision is brought to life and your personal style is showcased in every stroke.
At Gray Mountain, we believe that a beautifully painted interior has the power to transform your home, leaving a lasting impression on both you and your guests. Our commitment to excellence, combined with our limitless painting capabilities, makes us the go-to choice for all your interior residential painting needs.
So, whether you dream of a serene and tranquil bedroom, a vibrant and inviting living room, or a stylish and functional basement, Gray Mountain is the name you can trust. Let us cover every inch of your home, from the highest peak to the deepest corner, with our exceptional painting expertise. Experience the artistry and professionalism that only Gray Mountain can provide, and elevate your residential space to new heights.
SCHEDULING REQUIREMENTS
Contact us for a free estimate!  Should you wish to secure and schedule our services, we will require 1/3 down payment of the estimate.
INTERIOR PAINT COLOR TRENDS