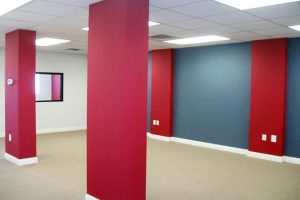 We offer a wide range of commercial interior painting services in Coeur d'Alene, Spokane, Post Falls, and the surrounding areas. Whether you have a small office that needs a fresh coat of paint or a large-scale project like painting apartment complexes, retail stores, fast food restaurants, pizza shops, and more, we have the expertise and experience to handle it all.
Our team of skilled painters is dedicated to delivering high-quality results that exceed your expectations. We understand the importance of creating a professional and inviting atmosphere for your business, and our meticulous attention to detail ensures a flawless finish every time.
When you choose our services, you can expect a seamless process from start to finish. We begin by thoroughly assessing your space and discussing your specific requirements, taking into consideration any unique challenges or design preferences you may have. Our team will then develop a comprehensive plan, including color selection, surface preparation, and paint application techniques, tailored to meet your needs.
We utilize top-of-the-line materials and equipment to ensure long-lasting and durable results. Our painters are trained in the latest techniques and are proficient in handling various types of surfaces, including walls, ceilings, trim, cabinetry, and more. Whether you need a simple touch-up or a complete transformation, we have the expertise to deliver exceptional results.
We take pride in our professionalism and reliability. Our team works efficiently and respects your time and space, ensuring minimal disruption to your daily operations. We strive to complete every project within the agreed-upon timeline, without compromising on quality.
Customer satisfaction is our top priority, and we go above and beyond to exceed your expectations. We are committed to delivering exceptional service and ensuring that you are 100% satisfied with the end result. Our friendly and knowledgeable staff is always available to address any questions or concerns you may have throughout the process.
If you are in need of commercial interior painting services in Coeur d'Alene, Spokane, Post Falls, or the surrounding areas, look no further. Contact us today to schedule a consultation and experience the difference our expertise can make for your business.