If you need to update or improve your Northern Idaho or Eastern Washington house, cabin or mobile home, make a wise decision and choose Gray Mountain, LLC. for your residential exterior painting needs. The choice to add fresh paint to the exterior of your home is an investment that adds value to your home and neighborhood. We offer trim only packages to complete home, garage and fence packages.
Look to sell your house? A new coat of paint on the exterior is a wise affordable option that creates higher resale value and leads to a quicker sale of your home.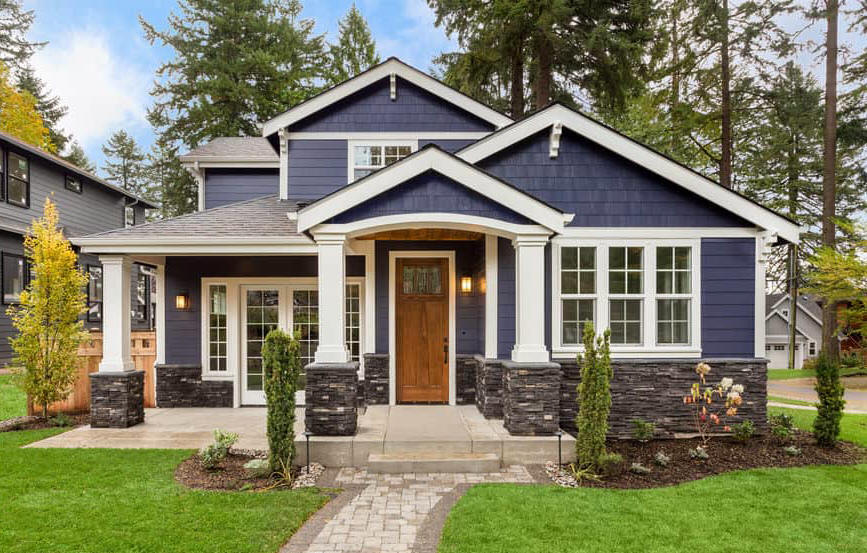 REQUIRED PREP WORK
Ideally, we need a 10 foot buffer to safely and efficiently paint the exterior of your house, cabin or mobile home. We need room for our ladders, tarps and other painting equipment.
We do understand that some objects and obstructions are fixed or cannot be removed. However, overgrown bushes may need to be removed or trimmed away from your home's exterior surfaces, windows may need caulked peeled and reapplied prior to painting, mold may need to be power-washed away, brick walls may also need repair prior to priming and painting. Wood may be rotted beyond repair and may need replaced. We will assess your needs and make suggestions during our free estimate.
Securing your pets to a remote location or indoors is also recommended.
SERVICE AREA
Our residential exterior painting services are available within 50 miles of Post Falls, ID so if you are located in or near any of the following areas, please contact us.
Coeur' d Alene, Hayden, Rathdrum, Post Falls, Spokane, Spokane Valley, Liberty Lake, Dalton Gardens…
SERVICE HOURS
Hours of Operation depends on each project. We can work around your schedule but we do recommend you plan ahead to secure a date on our schedule.
SERVICE LIMITS
Gray Mountain has a strict three story limit on exterior residential structures.
SCHEDULING REQUIREMENTS
Contact us for a free estimate!  Should you wish to secure and schedule our services, we will require 1/3 down payment of the estimate.